Historical building providing contemporary comfort and cosiness
The Pension is an old city house originally dating back to the 15th century. The aim of its overall reconstruction between 2003 and 2005 was to preserve as many historical features as possible. Our hall staircase with original banisters will take you back to the past but in a few minutes you will be in a cosy room with modern facilities. The accommodation is situated in a charming area right in the centre of Olomouc.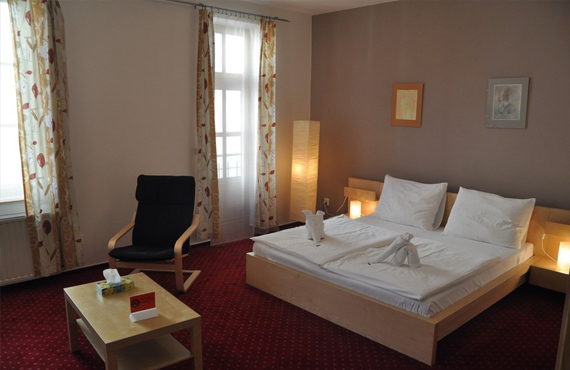 Indulge yourself in the cosy atmosphere of our pension
We will be happy to welcome you to our picturesque pension in the historical centre of Olomouc. Our pension offers amazing single and double rooms, studios and suites right in the city centre. We guarantee comfortable and pleasant short-term and long-term accommodation.
Our accommodation is suitable for families with children, business trips, tourists and holiday stays in Olomouc. We offer our clients excellent value for money.
You will be greeted by our charming and smiling staff who are always happy to help you.
Where can you find us
---
Penzion U Jakuba, 8. května 520, Olomouc
References
---
A cosy and charming pension in the very heart of beautiful Olomouc. I always like to come back because of their pleasant staff and professional approach.
We liked the spacious rooms and access to the kitchen. The staff was really helpful. The best of all is the location!
Located in the centre, comfortable wide bed, large room, nice receptionists, possibility to get a discount for Olomouc region card.